To be elegant and stylish button skirts, here's the report.
Introductory remarks: With so much talk about French elegance, button skirts are finally unable to sit down! Despite the triviality of buttons, it's a brilliant flower for all kinds of small skirts printed in pure color. Whether you like the retro V-necked dress or the light skirt, a few small buttons can always help you interpret the liveliness and convenience of the French style!
Situations: Travel/Holiday



Style: French Retro



Choose a "Button Line" dress



Delicate and leisurely French style is lovely, but many people only notice that the V-neck of French dress is open, but they do not notice that buttons are also one of the elements with high attendance rate. In midsummer, I couldn't help a dozen button dresses of all colors. When the whole nation took pictures, a bunch of buttons = pictorial impression.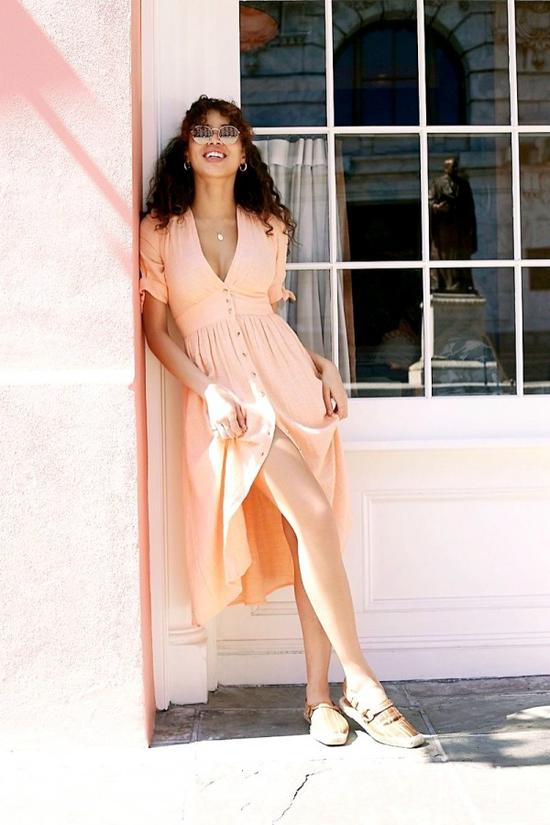 For example, orange button dresses are designed for holidays, with straw-knitted bonnets, small bags and Lefu shoes, even retro routes can be refreshing. Buttons are embellished in bright colors with crafts and details, and the slow rhythm and elegance of Parisian flavor permeate all hands and feet.
Purple and green are cool and cool visually, purple feminine flavor is hidden, green extracts natural spirit, a bunch of buttons can make up for the lack of pure color dress design sense, also can discount the maturity of V-collar. With a straw-woven bucket bag, it's fashionable like a fresh breeze.
As for the red dress, anyone can't help looking at it more. But the red dress is too enthusiastic, without any decoration, it is easy to change the mood into joy, so buttons are undoubtedly an important backing. A row of buttons goes down, and the dress is more leisurely and casual. It can be the protagonist of the picture at any time and anywhere.
Printed dresses compete with each other, and buttons make them stand out. Buttons will avoid the accumulation of a large number of visual fragments, find the order in irregular patterns, plus opening and overlapping, even if the trend of retro prevails, the unique film sense can also be memorable.



Situations: Appointment / Eating



Style: eye catching



Choose a dress that says, "I can't guess where the buttons are."



Since it's dating shopping, it's not enough style, but also "personality"! There is a design that loves to play tricks on buttons and surprises an ordinary cut dress.



Oblique button
Only the concave button shape, it broke the dull sense of regular arrangement. White buttons in the sapphire blue skirt along the edge of the dress from top to bottom, do not follow a straight line curve, with a diagonal fork deep V-collar, do not follow routines.
Golden hair and red lips, folded open skirts and broad-legged trousers, a series of oblique black buttons out of the formal style of the suit collar, black bags with black shoes, the whole body echoes.
But all the oblique buttons love to be combined with the open ones, creating a micro-sexy "buttons are not full". For girls who like feminine dresses, curved buttons are more elegant.



Decorative buttons
The decorative button, as its name implies, does not seem to assume any function, but appears on the skirt in the form of small area embellishment. Generally speaking, this design either reduces the complexity of printed skirts or adds elegance to pure-color skirts.
For the pure color dress, after a few more buttons, the primary and secondary position, its own blue skirt and pink skirt may be too low-key one may be too delicate, while white buttons and black buttons add a sense of element and tailoring, style is also a lot of neutral.
---